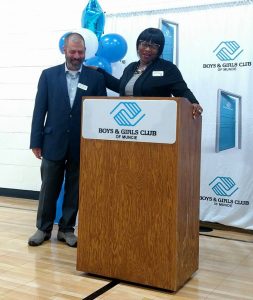 After several years of unique collaborative endeavors, and this year shared after-school programming, the Boys & Girls Club of Muncie and the Roy C. Buley Center are merging staffs, curriculum and boards of directors, effective early next year.
"The Club and Buley have long offered similar programming to adjacent neighborhoods," said Club President James Mitchell. "We began offering proven after-school Club programming at the Buley Center this academic year when the Club expanded its locations throughout the city. For our families whose elementary children go to Buley, there will be little change."
The Buley Center will retain its identity and its name, becoming the Roy C. Buley Center unit of the Boys & Girls Club of Muncie.
"We've always had great programming," said Qiana Clemens, who has been Executive Director of the Buley Center.  "This new partnership allows us to leverage a great community resource." Clemens joins the staff of the Boys & Girls Club with responsibilities at Buley and other BGCM locations including at the Madison Street Club, where teens get programming, Southside Middle School and the East Washington Academy.
AIM, the summer school enrichment collective, started three years ago is expected to continue with participants from BGCM, the new Buley unit, and the YMCA, the Ross Community Center and Motivate Our Minds. The same nonprofits also participate in the annual ICE League, the inner-city education league managed by Project Leadership and funded by the Ball Brothers Foundation.
"We see this new partnership as a natural progression to offer more families more programming and to be as efficient as possible with staffing and board strength," said Buley Board Chair Matt Kantz.
The two boards of directors also will merge. "We see tremendous value in the national brand of the Boys & Girls Club of America," Kantz said. "By making this move, it makes both organizations stronger and better serves children and their families in our community."
The Boys & Girls Clubs of Muncie works with more than 200 children every day, helping to enable all young people, especially those who need us most to reach their full potential as productive, caring, responsible citizens.