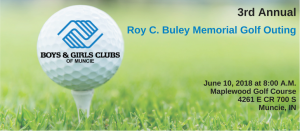 Well, it's finally spring here in Muncie. I don't know about you, but used to be, the smell of freshly cut grass always made me think of baseball. Baseball was my sport, it is the game that I'd play before I played any other. As my knees and back argue that I'm not quite able to play baseball with the vigor I'd once done, there is another sport I now wish I'd learned to play at a younger age. That game is golf.
Back in Philadelphia, my boss was a late convert to the game of golf, and once he'd found it, he sold it to everybody he could, even our youngest members. We partnered with an organization, First Tee, to bring the game of golf to our youth. With our younger members (in Clubs and in Schools) we taught the game, and ethics, golf indoors. With our older members, we brought them to the course. The lessons that we all (the First Tee folks made me do the lessons as well) learned on the golf course are ones that will stick with me.
Golf is the only sport where players call fouls on themselves. It is a sport that combines ethics, gamesmanship, physical fitness (if you don't believe me, go shoot 3 holes), and a positive attitude. These are all things that we, at the Boys & Girls Clubs of Muncie try to instill in all of our members.
For the past two years, the Roy C. Buley Community Center has run a golf outing. Well, now the Buley Center is part of the Boys & Girls Clubs of Muncie, and golf outings have a special place in my heart. It is important to all of us, at the Clubs, to keep the name of Roy C. Buley alive in our community. Robert Phillips (former Buley Board Member, and current Boys & Girls Clubs Board Member) gets a tear in his eye when speaking about Roy Buley, "If it weren't for Roy C. Buley, I'd have never learned this game. I'd like to pass that on to our current generation."
Please join us, on Sunday, June 10th at Maplewood Golf Course at 8:00 am, for the Third Annual Boys & Girls Clubs of Muncie- Roy C. Buley Memorial Golf Outing. All proceeds will go to the Boys & Girls Clubs of Muncie, and the creation of a golf program within our buildings, and on the course. Click this link to register your golf foursome, or find out how you can support the Clubs in general. I'm looking forward to seeing you on the links!